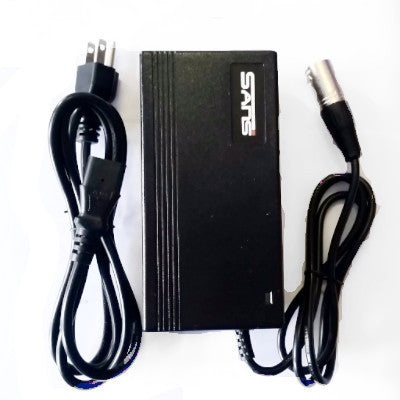 48 Volt XLR Lithium Battery Charger for Magnum Premium and Bagibike Electric Bikes
REAL SHOP.  REAL EXPERIENCE.  NOT JUST AN ONLINE STORE.
48 Volt Battery Charger for Magnum Premium
and Bagibike B10 B20 (FAT and PREMIUM) MODEL Electric Bicycles
Behind the Seatpost Lithium Ion Battery Packs
COMPATIBLE WITH 48v HIGH STEP AND LOW STEP FOLDING EBIKES
CHARGES 48 VOLT LITHIUM BATTERY PACK FOR
MAGNUM / BAGIBIKE FOLDING EBIKES
NOW AVAILABLE
AND WITH FREE SHIPPING!
ONLY AT THE ELECTRIC BIKE SHOP ONLINE
        This 48 Volt Lithium-Ion Battery Charger is UL Listed and made by SANS, one of the higher quality li-ion charger companies. The USA requires all battery chargers to be "UL Listed" certified and not CE. CE is for europe but a lot are sold in the USA under the radar. This is a genuine UL Listed charger.
This charger will charge at up to 58V which is for 48V Lithium Batteries. Charging is done at 2 Amps. This charger is self switching and can work in outlets with voltage from 110V to 240V. The power cord that comes with it is for USA 110V outlets.
The jack that plugs into the battery is an XLR Jack. This charger is the same charger included with all 48v Magnum Premium Folding 20" Electric Bicycles but will also work with other 48V lithium ion batteries. The charging port needs to be an XLR type. These chargers rarely if ever have any issues.

SPECIFICATIONS:
Brand New SANS 48v Lithium-Ion Battery Charger (For Magnum Premium 48v Batteries)
Color: Black
Charges to 58V
2 Amp charging speed
110V Outlet Power Cable Included
RCA Jack Charger Plug
UL Listed
RoHS compliant